The Simplest Way to Make Passionfruit Curd
Published , Last Updated
Passionfruit Curd, otherwise known as Passionfruit Butter is a retro condiment that is amazing served on scones or over Pavlova.
When we were kids we had a passionfruit vine, which I loved. We would get fresh passionfruit on our fruit salad and pavlovas but there was another fabulous reason to love passionfruit. Mum would make passionfruit curd, or passionfruit butter, as it was known in those days, with the surplus passionfruits.
As kids, we used to pick the passionfruit, then hold off eating them in the hope of getting passionfruit butter. Happily, we now have neighbours with a passionfruit vine. Recently the vine has been producing an abundance of passionfruits so I converted our family recipe for the Thermomix. This was an old "Switched on Living" recipe that is now all tattered and torn.
Passionfruit Curd Conventional Method
Making curd using the conventional method is very labour intensive. When I used to make the recipe as a teenager I used a double boiler system (one large saucepan full of water with the smaller saucepan balancing on top with the curd ingredients). This was to ensure a smooth custard was achieved without overcooking the eggs. It's important that the temperature is maintained no higher than 80 degrees Celcius.
As a result, making the curd on a stovetop was always a chore! Especially having to stir it constantly.
Thankfully making curd in the Thermomix is EASY!
The Thermomix makes short work of this recipe, so I'm sharing the simplest recipe for Thermomix passionfruit Curd ever! (Hence the title)
Storing The Curd
The passionfruit butter can be stored in the fridge for up to a month in a sealed container. Once the container has been open its best to consume within a week or two.
The hot curd can be transferred into sterilised empty jam jars or the cute little yoghurt pots which are available from the mixit shop. These are the pot I used when I filmed the video.

Let's Connect!
Would you mind tagging me on social media if you make any of my Thermokitchen recipes! Chatting and seeing your pictures really makes my day. #Thermokitchen
I would love to share more delicious recipes with you. For Thermomix recipe inspiration LETS CONNECT on;
FACEBOOK
TWITTER INSTAGRAM PINTEREST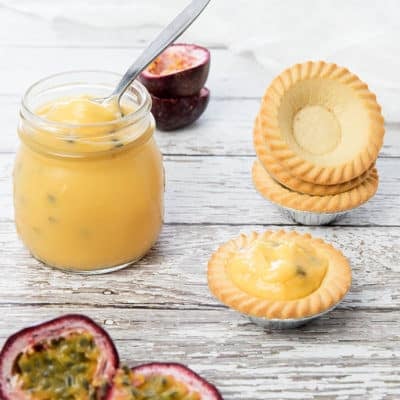 Passionfruit Curd
The simplest way to make passionfruit curd.
Course:
Butter, Curd, Dessert, Sauce, Snack
Keyword:
Condiment, Curd, Passionfruit, Passionfruit Curd, Thermomix, Thermomix recipe
Ingredients
200

gm

sugar

120

gm

passionfruit pulp

(about 16 fresh purple passionfruit or 5 yellow)

140

gm

butter

6

eggs
Instructions
Place sugar in TM bowl. Mill 3 sec/Speed 9.

Add butter, passionfruit and eggs to the TM Bowl. Cook 5 mins/ 75°C / Speed 3.

Remove the lid and dry condensation. Cook 15 mins/ 80°C / Speed 3. (MC OUT) Use splatter gaurd if required.

Pour into 3 cleaned jars and refrigerate to store.

The curd will thicken further in the fridge. The recipe will keep in the fridge for at least two weeks.
Recipe Video
Recipe Notes
Passionfruit Curd makes a great Christmas hamper idea.
Store the curd in recycled jam jars or yoghurt pots.
Use the passionfruit curd in pre-purchased tartlet shells with chantilly cream, on scones, or as a topping for pavlova.
Nutrition Facts
Passionfruit Curd
Amount Per Serving
Calories 76
Calories from Fat 45
% Daily Value*
Fat 5g8%
Cholesterol 43mg14%
Sodium 47mg2%
Potassium 26mg1%
Carbohydrates 8g3%
Protein 1g2%
Vitamin A 215IU4%
Vitamin C 1mg1%
Calcium 7mg1%
Iron 1mg6%
* Percent Daily Values are based on a 2000 calorie diet.
I hope this becomes your new favourite way to make the curd.
If you're looking for a recipe to add the curd to why not try my Passionfruit Butter Cake. It's so delicious I know you will want to make it straight away!
If you enjoy my passionfruit curd recipe please come back and leave me a comment. I love hearing from everyone 🙂
Happy Cooking
j
Originally posted March 10, 2017, updated and republished July 15, 2020