Decadent Passionfruit Curd Cake
Published , Last Updated
It has been a very busy week, so I'm ready to sit down with a piece of this decadent passionfruit curd cake and a cup of tea.  I would love it if you could join me!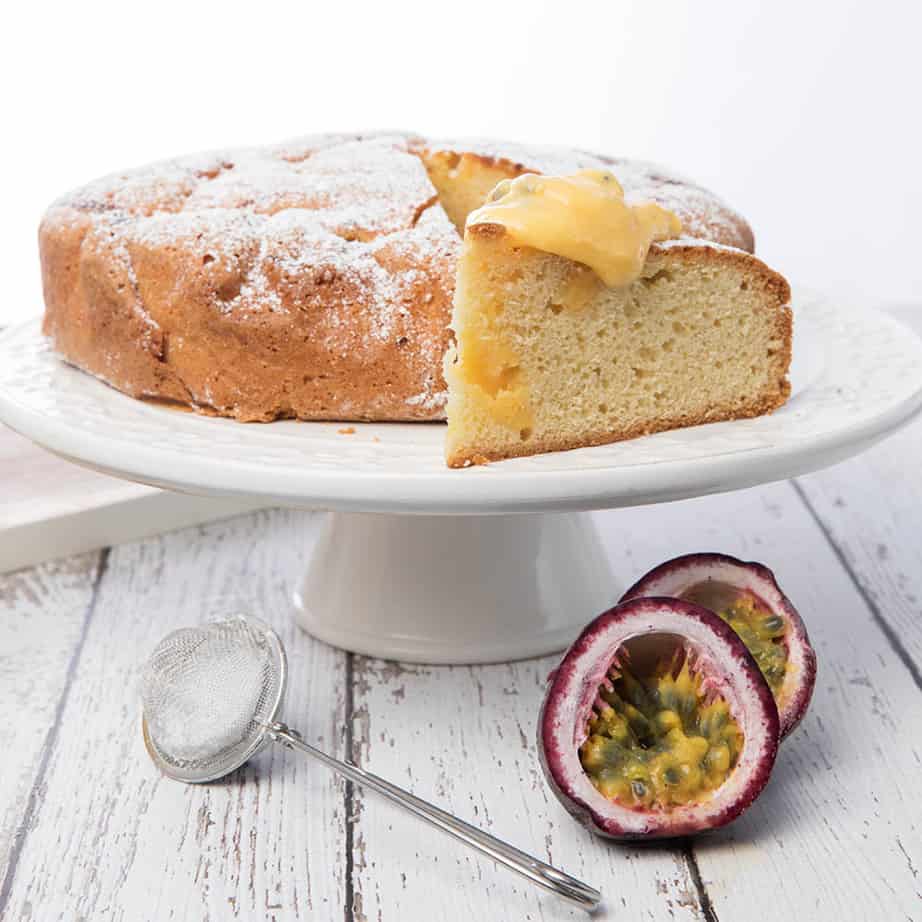 Decadent Passionfruit Curd Butter Cake
This delicious recipe is a fabulous way to make use of passionfruit curd.
Course:
Cake, Dessert, Snack, Sweet
Cuisine:
American, Australian
Ingredients
225

gm

plain flour

1 1/2

tsp

baking powder

1/4

tsp

salt

225

gm

caster sugar

125

gm

butter

cubed

3

eggs

90

gm

milk

1

lemon

zest only

1

cup

passionfruit curd
Instructions
Preheat oven to 160 degrees C. Line an 8 inch round cake tin with baking paper.

Add the butter to TM Bowl. Melt 3 min/Varoma/Speed 2.

Add the milk, lemon zest, salt, sugar and then eggs. Beat 1 min/ Speed 5.

Add the flour and baking powder. Combine 1 min/Speed 4.

Pour the cake batter into the prepared cake tin.

Use a teaspoon to drop passionfruit curd over the top of the cake. Take a skewer and swirl the curd gently through the batter. Do not over combine.

Bake in the pre-heated oven for approximately 50 minutes until golden and risen.

Allow to cool and serve warm with a dusting of icing sugar and an extra serving of passionfruit curd and chantilly cream.
Recipe Notes
The passionfruit curd will stay moist when the cake is cooked so when you test with a skewer ensure you test in an area without curd.
Nutrition Facts
Decadent Passionfruit Curd Butter Cake
Amount Per Serving
Calories 280
* Percent Daily Values are based on a 2000 calorie diet.
Some readers may be aware that I have been a food blogger since 2009. That's a lot of eating, recipe development and recipe sharing!  During that time I've gotten to know quite a lot of the long-term foodies and food bloggers.  The recipe I'm sharing today comes from "The Cooks Republic".Sneh makes the most amazing recipes and is one of the best food photographers I know.
I was looking for something special to make with the passionfruit curd I prepared last week. I remembered a delicious recipe Sneh has on her site for this passionfruit curd butter cake. The recipe wasn't suitable for the Thermomix so I did a bit of experimenting so I could share a Thermomix version of the passionfruit curd cake.
I particularly like cakes which follow the simple "melt and mix" routine. Happily, that method worked perfectly with this cake. If you're looking for a tasty lunch box treat, pin this for later 🙂
I'd like to encourage you to take a look at the Cooks Republic, I'm sure you will find plenty of food inspiration.
If you would like more great Thermomix recipes, please follow the ThermoKitchen FB Page. I share loads of great recipes on the page. Our community group page also shares recipes from other fabulous Thermomix bloggers. So if you're looking for more yummy recipes make sure to join both pages.