Peanut Butter Bread – No Yeast Retro Recipe
Published
Peanut Butter bread, you just have to try this retro trendy recipe! The baking smell alone will drive you crazy and there is no yeast needed!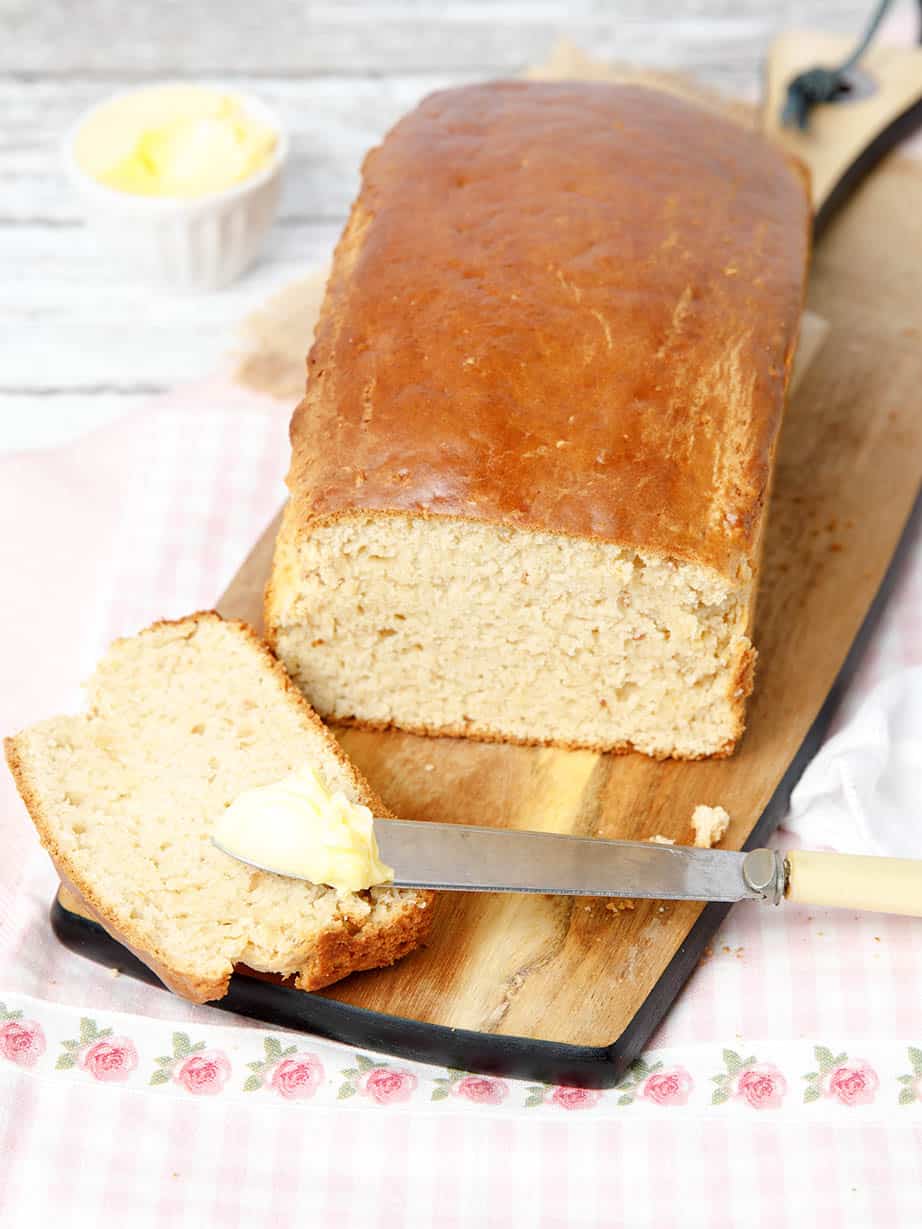 Peanut butter bread has been an overnight internet sensation! Well, almost overnight… except the recipe was first published in 1913 by a Canadian flour mill. The mill collected recipe from the community and compiled them in a collection called "A Guide to Good Cooking" by 5 Roses flour.
The book became popular around the time of the great depression. Food shortages made ingredients difficult to find and expensive, so housewives needed to be thrifty. Those were the days of making delicious food from basic ingredients.
Fast forward nearly one hundred years and this recipe has been brought out of retirement. I'm not sure if the popularity is due to a resurgence of cooking during our COVID-19 isolation. Perhaps it's because bakers flour and yeast are difficult to find at the moment, or it may be because Greg & Friends featured it on one of their YouTube Videos and it struck a chord with viewers.
It doesn't matter why there has been a sudden boost in popularity, the important thing is it's definitely time for a new generation to taste the Peanut Butter Bread. When you do I think you will have an appreciation for the recipe. It's delicious and so simple to make, best of all there are so many variations you could make to the basic recipe.
Is it a Bread, Cake or Loaf
Before I tried this recipe I had no idea what to expect. Was it a bread, cake or loaf. Was it sweet or bready? When would you eat your peanut butter bread? Do you make a sandwich with it or add a frosting?
I couldn't get my head around it until I cooked and tasted the finished results.
Here is what I discovered.
So it's not bread, like a piece of sandwich bread. It's definitely not cake-like. The best way to think of this is like a banana loaf in texture. The flavour is very mild and only very slightly sweet. It has only a vague peanut flavour, almost like a vanilla-ish peanut butter loaf.
Peanut Butter Bread – No Yeast Bread Ingredients
The first difference to a regular bread recipe is that it doesn't require Bakers Flour. This is great because in my local area we have a shortage of bakers flour at the moment.
Yeast is not needed for the recipe, baking powder is used as the raising agent.
Unlike a cake, butter isn't needed and nor are eggs required.
When and How to Eat Peanut Butter Bread
I think this would make a delicious light brunch treat. Serve the bread fresh from the oven, sliced and buttered would be perfect.
If you wanted to be fancy, slice the cooked bread, then fry it in butter, toasting each side. Serve the toasted bread with sliced banana and maple syrup.
It would be equally nice as a sweet snack or lunchbox idea when the kids go back to school.
Peanut Butter Bread Variations
There are a number of ways you can change this recipe up.
Add 3/4 cup milk choc chips
Add 1/2 cup sultanas
Sub half the sugar for honey
Go totally rogue and replace the peanut butter with Nutella!! YUM!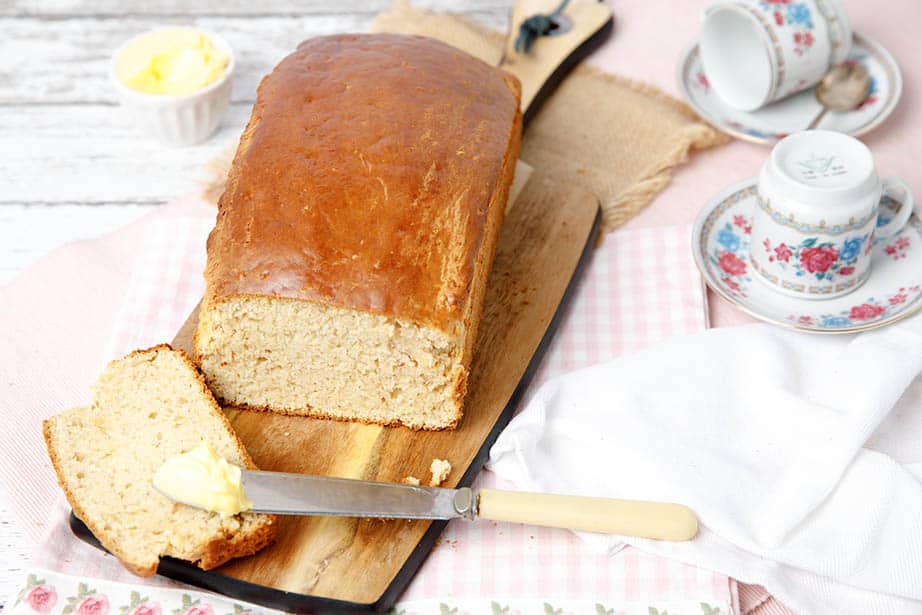 Peanut Butter Bread – Method By Hand
Pre-heat oven to 160 C or 325 F.
Place all your dry ingredients in a large mixing bowl and combine well by hand.
Add the milk and peanut butter in a jug and heat for 40 seconds.
Whisk the milk and peanut butter together in the jug until combined.
Pour the wet ingredients into the flour and mix together.
Add the batter to a well greased loaf tin and bake for 1 hour. Test with a skewer.
Let's Connect!
Would you mind tagging me on social media if you make any of my Thermokitchen recipes! Chatting and seeing your pictures really makes my day. #Thermokitchen
I would love to share more delicious recipes with you. For Thermomix recipe inspiration LETS CONNECT on;
FACEBOOK
TWITTER INSTAGRAM PINTEREST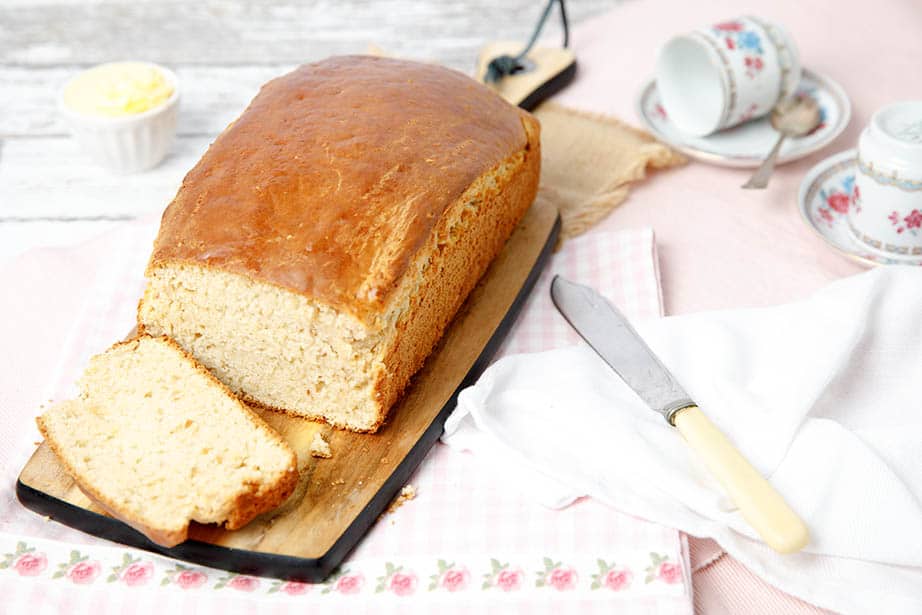 Peanut Butter Bread
Peanut Butter bread, you just have to try this retro trendy recipe! The baking smell alone will drive you crazy! Delicious depression recipe no yeast needed
Course:
Breakfast, Brunch, Snack
Cuisine:
American, Australian
Keyword:
Baked, Bread, Cleaning Thermomix, Conventional, Depression cooking, Loaf, peanut butter
Ingredients
340

g

plain flour

4

tsp

baking powder

115

g

white sugar

1/4

tsp

salt

125

g

peanut butter

i used crunchy but smooth is fine

325

g

milk

*for vegans use almond or coconut milk
Instructions
Preheat oven to 160 degrees C or 325 F

Spray a loaf tin with oil or using baking paper to line the tin.

Add flour, baking powder, sugar, salt and then peanut butter to the TM Bowl.

Combine to resemble breadcrumbs. 30 Sec/Speed 4.

Add milk to mixture. Combine 15 sec/Speed 4

Scrape down the bowl. Mix 5 sec/Speed 4

Bake for 1 hour, test with a skewer.
Recipe Notes
Note:
If your loaf appears to be browning on the top too quickly turn the oven down further. This loaf is baked in a moderately slow oven.  Cooking it too fast will cause the top to crack and open. 
For a smooth top brush the top with milk to smooth it over.
Nutrition Facts
Peanut Butter Bread
Amount Per Serving
Calories 212
Calories from Fat 54
% Daily Value*
Fat 6g9%
Cholesterol 1mg0%
Sodium 109mg5%
Potassium 275mg8%
Carbohydrates 35g12%
Protein 6g12%
Vitamin A 55IU1%
Calcium 100mg10%
Iron 2mg11%
* Percent Daily Values are based on a 2000 calorie diet.
If you're looking for another fabulous retro recipe, why not try my traditional Choko Chutney!
Or if it's brunch you're looking for there is always these amazing Cinnamon Scrolls!
Please feel free to leave me a comment. Did your family this loaf? Did you make any variations?? Do you have any other favourite retro recipes?
I love hearing from everyone 🙂Rating the recipe once you've made the dish helps other readers decide whether to make my dishes. AND if you take any pics, please post them to social media and tag me!!
Happy Cooking
Julie
xx