Homemade Pineapple and Passionfruit Jam Thermomix
Published
When I was a child, jam came in a multitude of different flavours. One of my favourites was homemade passionfruit jam. We would always have different varieties of homemade jam in the fridge.  The jam was usually gifted from a someone who had a surplus of fruit. Even supermarkets stocked a variety of flavours. Today it seems like the only supermarket choice is strawberry jam and not as many people are making their own jam.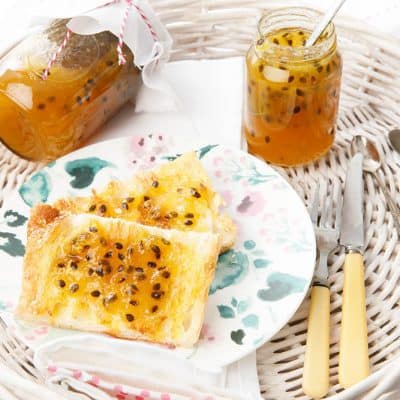 Pineapple and Passionfruit Jam
A delicious summer tasting jam, full of big fruit flavours!
Ingredients
450

gm

pineapple

peeled weight (1/2 pineapple)

300

gm

passionfruit pulp

(approx 10-12 small passionfruit)

370

gm

water

45

gm

fresh lemon juice

1

outer lemon peel

reserved from the juiced lemon

750

gm

sugar

50

gm

Jamsetta
Instructions
Squeeze the lemon and reserve the lemon juice for later.

Cut pineapple into cubes and place it in TM bowl.

Add water and 2 halves of the squeezed lemon to the TM bowl. Cook 30min/Varoma/Speed1 (MC OUT)

Remove the lemon skins from TM bowl. Blend 50sec/Speed 5-10 increasing slowly.

Add the passion fruit, sugar, lemon juice and Jamsetta to the TM bowl. Mix to combine 5sec/Speed 3.

Cook 15min/110/Speed 1 (MC OUT). Watch the jam carefully for the last 5 minutes.

While the jam is cooking sterilize the jars by washing them in warm water.

Place the clean wet jars on a roasting tray in the oven.

Turn the oven to 110 degrees and allow the jars to heat slowly.

Once the oven has reached 110, turn the oven off, leaving the jars inside.

Test the jam by place a spoonful of jam onto something in the freezer. As it cools it should get a jam consistency. If not cook it for a further 2 minutes and then retest. *This is very important as the jam will vary on the time it takes to reach setting point depending on how ripe the fruit is, pectin level and moisture content.

Once the jam has reached setting point remove the jars from the oven. Pour the hot jam into the hot jars and seal with the lid whilst hot.

Leave the jam on the bench to cool. Once cooled the jars can be refrigerated.
Recipe Notes
TM31 users should cook the jam on 100 degrees. Test the jam for setting point before bottling. 
Making jam is a great use for surplus passion fruit because it uses up a lot of fruit. Jam keeps for a long time so you can enjoy the lovely passion fruit flavours long after the vine is bare.
Jam in the Thermomix is super easy when you have a good recipe. It took me two attempts at this Pineapple and Passionfruit jam recipe before I had success, but now it will be a cinch for you. I had a little trouble because I was converting an old passion fruit jam recipe.  My recipe needed to include pineapple because I had purchased a pineapple that was completely tasteless. no one would eat the pineapple as it was, so jam was the only option.  The original recipe was a conventional stove top recipe so I also needed to make it suitable for the Thermomix.  To add insult to injury the original recipe was really imprecise!
My first attempt at making the jam was delicious, but it didn't set. Both Pineapple and Passionfruit have very low pectin levels. Pectin is the setting agent naturally found in some fruits. Low pectin means the jam won't set naturally.  There are two ways to fix this problem. The first method is to add a fruit to the jam which has high pectin levels. This is great if you want to taste another fruit flavour. If you want to keep the jam purely made from the low pectin fruit you need to use Jamsetta. Jamsetta is tasteless and is simply pectin from fruit dehydrated with a little sugar as a carrier.
In my first attempt, I decided to add some lemon (skin and all) as this is high in pectin. The lemon gave the jam a lovely flavour, but it wasn't enough pectin to set the jam. For my second attempt, I used the same recipe as the first attempt but added Jamsetta. Success!
What a delicious success it was! The jam had such a sweet, tropical, floral flavour! So many amazing food memories came flooding back to me. Obviously, when you have a delicious jam you need to choose your favourite bread, toast it, add a little too much butter and jam, then enjoy it shamelessly.
If you have a passionfruit vine make sure you pin this recipe for when you have a surplus. I also have a few more passion fruit recipes you may be interested in saving. I will be making it regularly now even though I don't have a vine. The passion fruit jam is so delicious it's even worth buying passion fruit.
Passionfruit curd is always a favourite and once you make the curd this Passionfruit Teacake is a simple way to put the curd to use. I will be making the jam regularly now even though I don't have a vine. I think the jam is so delicious it's even worth buying passion fruit.
So I'm off to deliver some of my jam to friends.  The lovely thing about making preserves is the recipe always makes too much for one family. I love sharing gifts from the kitchen. Jams and relishes are a favourite as you can't get variety unless you make your own.