Keto Popcorn Chicken Salad – Plus Keto Book Review
Published , Last Updated
Crunchy, spicy, keto popcorn chicken pieces served in a tasty green salad with chipotle mayonnaise and shaker sprinkles. This recipe is the bomb and it comes together in no time!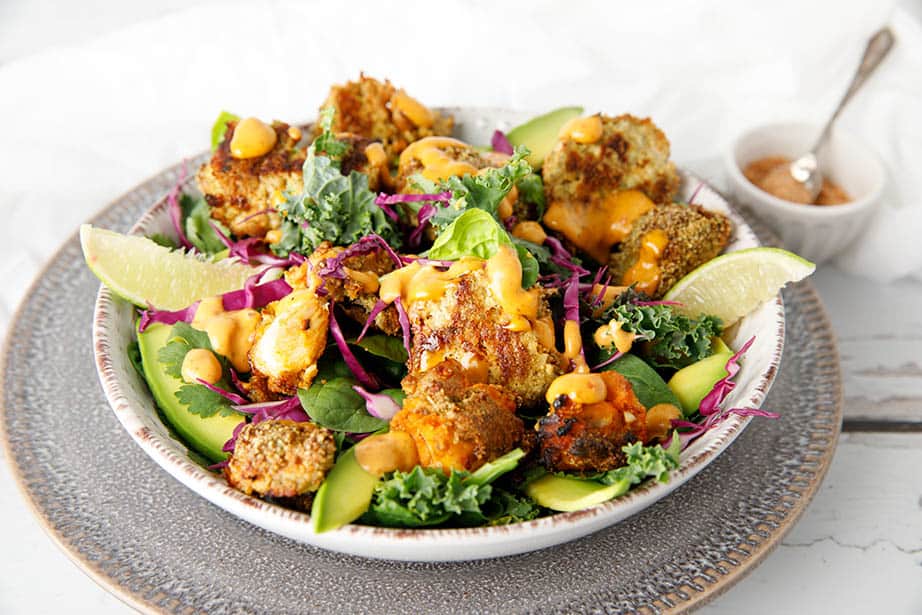 If you've ever tried to follow any type of diet you will probably know that success quite often depends on the quality of the recipes and meal plan you follow. A successful diet needs to include quick, tasty recipes which everyone is happy to eat.
Today I am reviewing the Lunchtime Keto Handbook by Megan Ellam. This is Megan lastest of 19 cookbooks. I've also taken one of her recipes for a "road test". Megan has graciously allowed me to share the recipe for her Crunchy Baked Popcorn chicken Salad with readers. You will find the complete recipe for Keto Popcorn Chicken Salad at the end of the post.
But first let's go back to basics.
What is Keto or The Ketogenic Diet?
The ketogenic diet is a very low-carbohydrate diet which focuses on including a high level of healthy fats and protein as the main macronutrients. By drastically reducing carbohydrate intake and replacing it with healthy fats, the body enters a metabolic state called ketosis in which it burns stored fat resulting in weight loss.
Keto is a completely new concept to me! So I could better understand the benefits and difficulties of the diet I thought I would ask Megan a few questions in the form of an interview. We talked about the Keto Diet, staying Keto and I check out her other books and favourite recipes.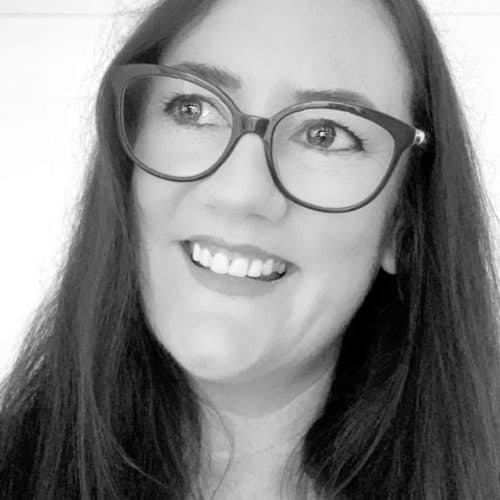 Looking through Megan's "Lunchtime Keto Handbook" I found her recipes are as low as 3g per serving! Even though I cook healthy meals from scratch, my meals are never that low in carbs. Creating delicious recipes for a Keto diet is a real talent! Some of the staple ingredients we take for granted such as flour, sugar, rice and potato are not available on this eating plan. Finding substitute ingredients that not only work in a recipe but lift the dish to a whole other level of flavour and nutrition is Megan's gift.
I would never have imaged you could make the following recipes ketogenic. PLUS, they're also nut-free!
Keto Lunchtime Cookbook
Keto lunchtime includes 48 recipes. Some of my favourite dishes from Megan's latest cookbook include;
Aussie Beef Pie
Keto Cheese & Bacon Scrolls
Newie Cheese Steak Wrap
Taco Roll Up
Beef & Feta Gozleme
Crunchy Baked Popcorn Chicken Salad
Nut-free Sandwich Loaf
Raspberry & White Chocolate Muesli Bar
If you're interested in testing the "Keto Waters" I highly recommend the "Lunchtime Keto Handbook". Our recipe today Keto Popcorn Chicken Salad has been taken from this book.
The recipes in Megan's latest book are delicious and suitable for the whole family. I have made the dishes for lunch and dinner and they were enjoyed by everyone. Hubby particularly enjoyed the Spicy Keto Popcorn Chicken Salad so this is the recipe I am sharing today.
Step by Step Spicy Keto Popcorn Chicken Salad
A simple spicy marinade is made for the diced chicken. In the meantime, a zesty pepita seed crumb is prepared to coat the chicken pieces.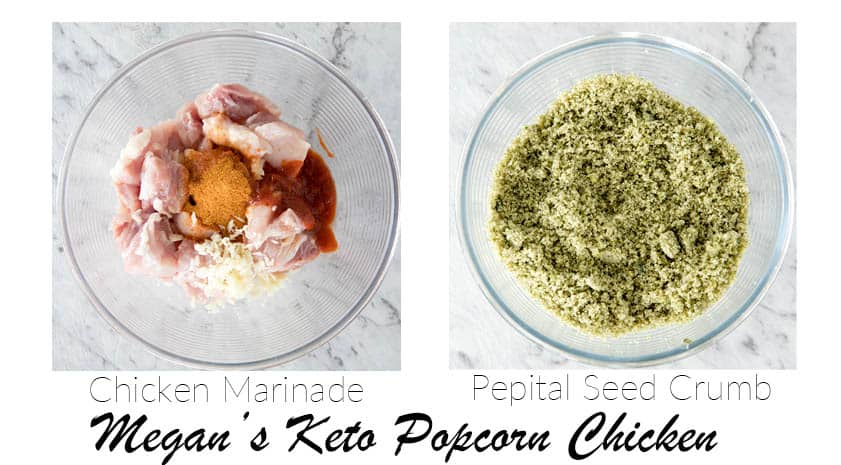 Once the chicken has marinated it gets crumbed and baked in the oven. Combine the ingredients for the "shaker salt" and make the salad.
Serve the Keto Popcorn Chicken Salad with chipotle mayonnaise.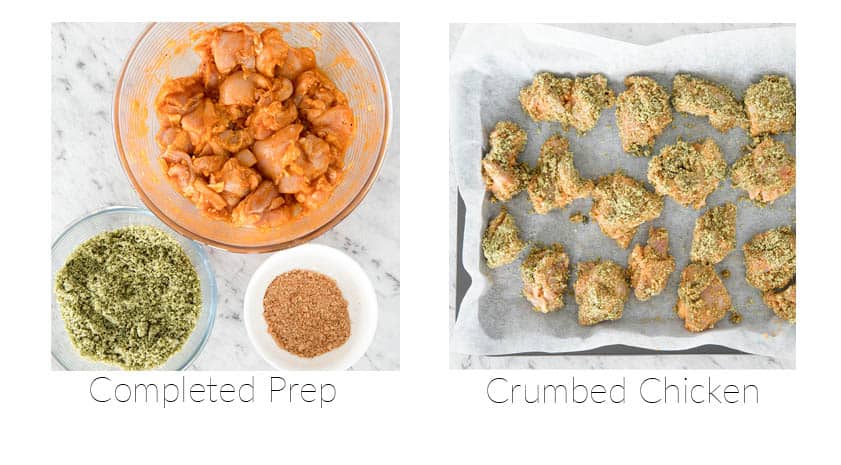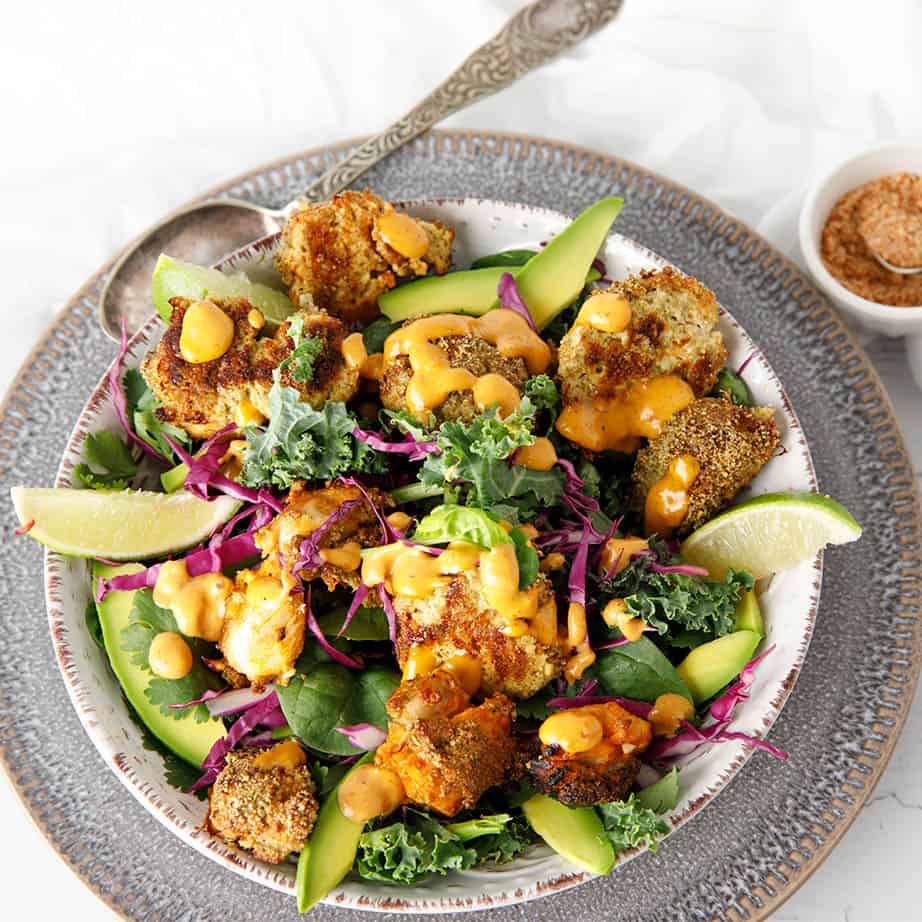 Keto Popcorn Chicken Salad
Keto Popcorn Chicken Salad recipe - Crunchy, spiced homemade chicken nuggets, served in a tasty green salad with chipotle mayonnaise & shaker sprinkles.
Keyword:
Chicken, healthy, Keto, Low-carb, salad
Ingredients
Chicken Marinade
400

g

chicken thigh fillets

diced

5

g

garlic

finely diced

1

TBS

lemon juice

2

TBS

olive oil

1/2

tsp

chipotle powder
Breading
3/4

cup

pepita seeds (Green Pumpkin Seeds)

1

tsp

white pepper

1

tsp

salt flakes

1/2

lemon zest

1/2

lime zest
Shaker Spice Mix
1

tsp

onion powder

1

tsp

garlic powder

1

tsp

kashmiri chili powder

1

tsp

salt flakes
Salad
1/4

cup

savoy cabbage

finely shredded

1/4

cup

coriander leaves

1/2

avocado

sliced

8

cherry tomatoes

halved

2

TBS

Chipotle Mayonnaise

recipe in Keto Lunchtime Handbook
Instructions
Combine the chicken and all marinade ingredients in a large bowl. Leave to marinate for one hour.

Pre-heat the oven to 200-degree Celsius. Line a baking tray with paper.

Add the pepita seeds to TM bowl 6 sec/Speed 9

Place the zest, pepper and salt in TM bowl. Combine 5 sec/ Speed 5.

Place the breading crumb in a large bowl. Toss and coat chicken in the breading.

Transfer the chicken to the prepared tray. Bake 20-25 minutes until crispy.

Meanwhile, combine shaker ingredients in a small bowl.

Combine the salad ingredients in a bowl.

Serve the cooked chicken over the salad. Sprinkle shaker salt over the chicken and top with chipotle mayonnaise.
Recipe Notes
If you can't find pepita meal (pumpkin seed flour) simply purchase pumpkin seeds and use a high powder food processor or Thermomix to mill the seed yourself.
Nutrition Facts
Keto Popcorn Chicken Salad
Amount Per Serving
Calories 388
Calories from Fat 279
% Daily Value*
Fat 31g48%
Cholesterol 98mg33%
Sodium 1265mg53%
Potassium 498mg14%
Carbohydrates 8g3%
Protein 20g40%
Vitamin A 690IU14%
Vitamin C 17.2mg21%
Calcium 21mg2%
Iron 2.1mg12%
* Percent Daily Values are based on a 2000 calorie diet.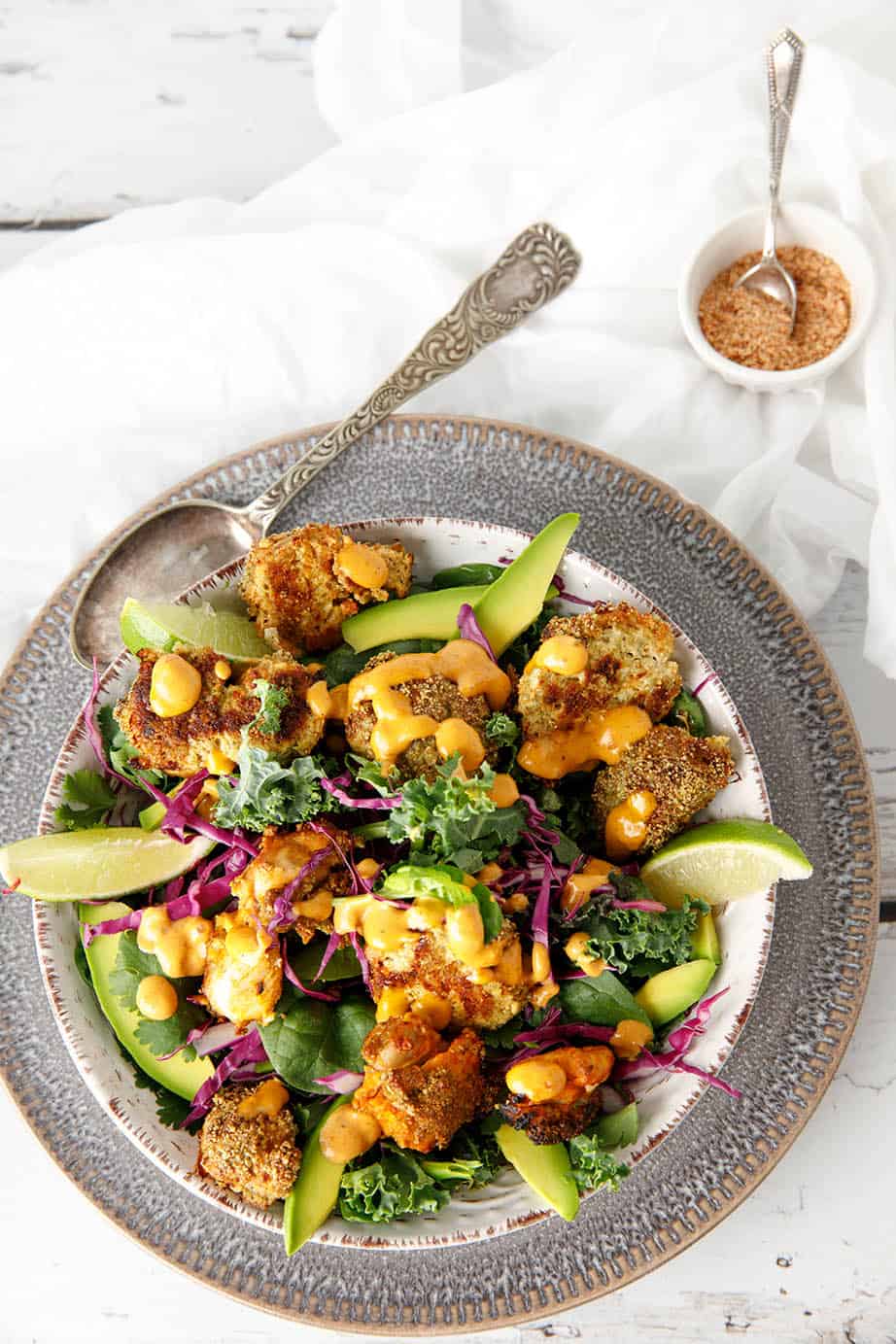 Let's Connect!
I'd love you to tag me on social media if you make any of my Thermokitchen recipes! Chatting and seeing your pictures really makes my day. #Thermokitchen
For more delicious Thermomix recipe inspiration LETS CONNECT on;
FACEBOOK
TWITTER INSTAGRAM PINTEREST
I'd love to hear your thought on the recipe and the Keto lifestyle! Do you follow the Keto diet, have you had success? What are your best tips for maintaining a keto lifestyle?
If you're looking for another Keto recipe you could also try my Keto Pesto Chicken. As always please feel free to leave a comment below, and if you make the Keto popcorn chicken salad please don't forget to leave a rating below.
Happy Cooking
j