Perfect Fluffy Mashed Potato Thermomix Recipe
Published , Last Updated
My perfectly fluffy mashed potato is deliciously buttery and with just the right amount of salt. It's the ideal Thermomix Comfort food.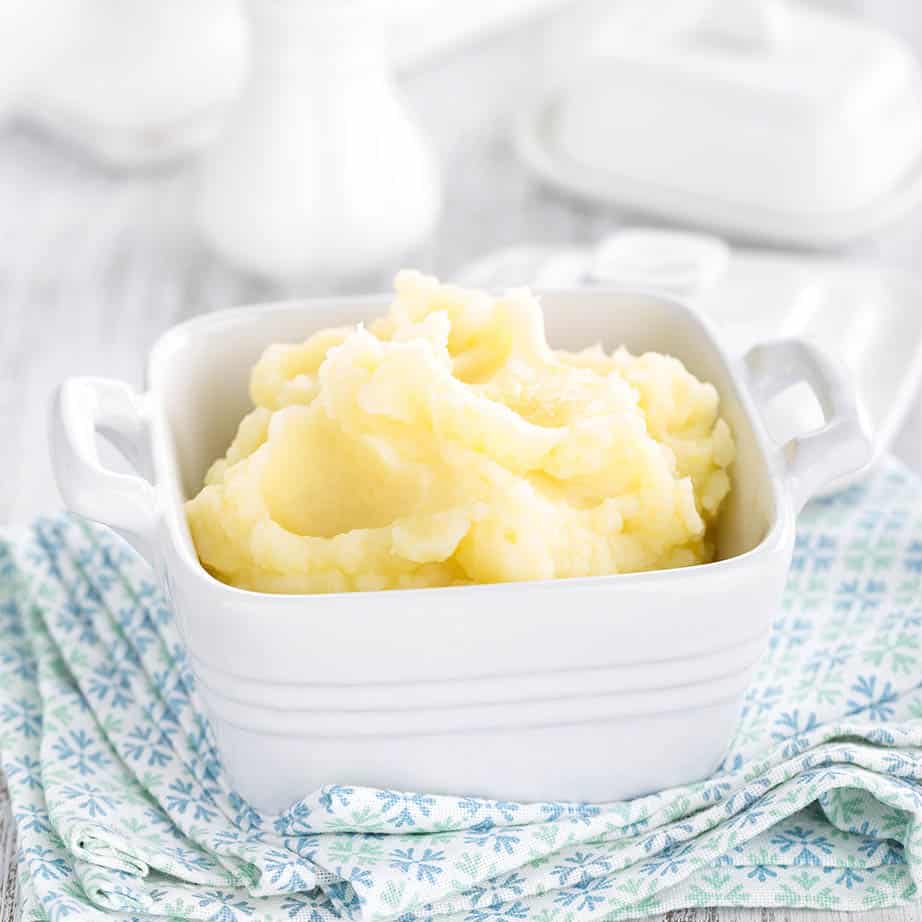 Whether it's a cold winters day or I'm feeling a little tired and run down, mashed potatoes have a special place in my heart and in my tummy. I love the creamy goodness. It's basic but it's homely and warming.
This is a very basic recipe but like all simple dishes, the correct ingredients and technique are the keys to perfection. I know a lot of people have trouble making perfect mashed potato in the Thermomix so I wanted to share my tips. Thermomix mashed potatoes are a life changer!
This recipe gives you bang for your Thermomix buck because it's family-friendly and SO MUCH easier to make in the Thermomix. In the Thermomix mashed potatoes requires almost no input from the cook. It's literally a set and forget dish that everyone loves.
Let's take a look at how you would make mashed potatoes if you didn't have a Thermomix.
Perfect Mashed Potato Stove Top Method
The problem with the stovetop method is that for a side dish, mashed potatoes are rather demanding.
Firstly you have to peel a kilo of potatoes
Then cut them into 2-3cm cubes
Add the potatoes to a large saucepan of salted water
Bring the water and potatoes to the boil.
Cook for 15- 20min
Adjust the heat setting each time the water boils over or comes off the boil.
Test the larger cubes of potato with a knife to see if they're cooked through
Drain the potatoes through a sieve
Add 50g cubed butter and 200g milk and mash by hand. (Don't over mash) ie: stick blender or food processor won't work *see tips below
Thermomix Mashed Potato
Making mashed potato in the Thermomix is a no-brainer because it requires very little effort compared with the stove-top method. This recipe should be used as one of your "go to" basic Thermomix recipes.
I've noticed that when making mashed potatoes people usually have one of two problems, the wrong potatoes, or over mashing so here are my tips.
Perfect Thermomix Mashed Potato
Choose The Correct Potato for Mashing
It is important to choose the correct type of potato for mashing. The potato needs to be a "floury' variety, not a waxy potato. If you choose a waxy potato the result is likely to be something that resembles and tastes more like a lumpy glue than a light fluffy mashed potato.
In Australia we have a number of readily grown floury potatoes, choose one of these varieties;
King Edward
Golden Delight
Sebago
Dutch Cream
Beware of any potatoes that are suitable for salads. For a potato to be suitable for salads they need to have the ability to hold their shape when cooked. This is NOT what we want for a mashed potato! I tend to steer clear of "all-rounder" potatoes for the same reason.
The correct cooking Method for Mashing
My next tip is not to add the Butterfly to the TM Bowl until after the potatoes are cooked. There are two reasons for this;
The butterfly has a tendency to jump off whilst the potatoes are being cooked. This can damage the butterfly if it remains out of position for the duration of the cook. Plus it's annoying to be trying to replace it throughout the cooking time.
More importantly, when potatoes are mashed, starch is released. The longer the mashing process the more starch which is released. Gluey mashed potato occurs when too much starch gets released. SO we want to do the minimise the mashing. To do this we add the butterfly once the potatoes are fully cooked.
If you're looking for the perfect accompaniment for mash potatoes take a look at my Maple Syrup Lamb Shanks! This is a personal favourite recipe of mine.
Let's Connect!
Would you mind tagging me on social media if you make any of my Thermokitchen recipes! Chatting and seeing your pictures really makes my day. #Thermokitchen
I would love to share more delicious recipes with you. For Thermomix recipe inspiration LETS CONNECT on;
FACEBOOK
TWITTER INSTAGRAM PINTEREST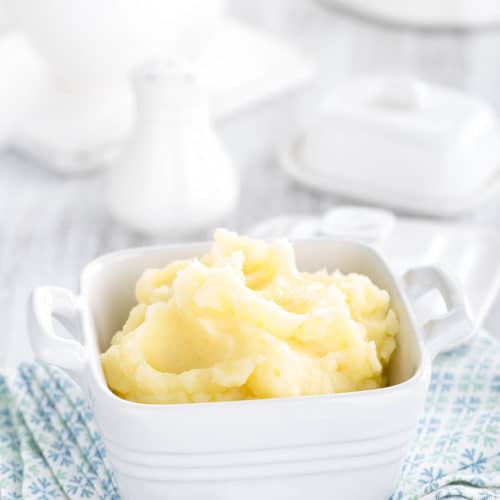 Perfect Mashed Potatoes Thermomix
My mashed potato recipe is perfectly fluffy, deliciously buttery and with just the right amount of salty goodness. An ideal Thermomix Comfort food.
Cuisine:
American, Australian, English
Keyword:
Basic Recipe, Cleaning Thermomix, Comfort food, Mashed Potato, Side dish
Ingredients
1000

g

potato

choose floury potato, no need to peel potatoes if they're washed.

5

g

salt

350

g

milk

50

g

salted butter

cubed and at room temp
Instructions
Cut potatoes into 2-3cm cubes and add to TM Bowl.

Add salt and milk to TM Bowl. Cook 30 min/95 Degrees/Speed 1 (reverse blade) (MC OUT)

Add the internal steam basket to the lid to reduce splatters.

Add the butterfly to the TM bowl inserting it between the blades and giving it a half-turn to the right.

Add butter to the TM Bowl. Whip 30 Sec/Speed 3.
Recipe Notes
TIP:
Please read the tips above regarding selecting the best potato for this recipe. I cannot stress enough that success in making the perfect mashed potato depends on choosing a flour potato.
Also, ensure that the potato is well cooked before proceeding to the mashing stage. The potato should be falling apart and unable to hold its shape when a knife is inserted. 
Nutrition Facts
Perfect Mashed Potatoes Thermomix
Amount Per Serving
Calories 176
Calories from Fat 63
% Daily Value*
Fat 7g11%
Cholesterol 19mg6%
Sodium 424mg18%
Potassium 779mg22%
Carbohydrates 24g8%
Protein 6g12%
Vitamin A 327IU7%
Vitamin C 19mg23%
Calcium 123mg12%
Iron 5mg28%
* Percent Daily Values are based on a 2000 calorie diet.
Please feel free to leave me a comment. I love hearing from everyone 🙂Rating the recipe once you've made the dish helps other readers decide whether to make my dishes. Also if you take any pics, please post them to social media and tag me!!
Happy Cooking
Julie
xx