No Fail Thermomix Salted Caramel Fudge
Published , Last Updated
Salted Caramel Fudge was one of the first recipes I made when I received my Thermomix. I know other people make the vegetable stock first, but not me! The three recipes I wanted to try were;
Salted Caramel Fudge or Vanilla Bean Fudge
Lemon or Passionfruit Curd
The reason I had these high on my list of things to make was that I find these recipes really tedious without the Thermomix. There is a lot of stirring over heat involved, which means bubbling hot liquids.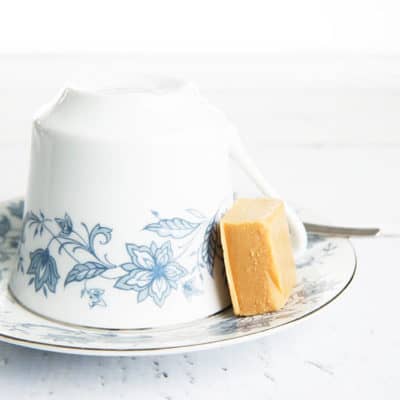 Thermomix Salted Caramel Fudge
This is the only salted caramel fudge recipe you'll ever need! It's a no fail Thermomix salted caramel recipe and it tastes better than commercial fudge.
Course:
Dessert, Lunchbox, Party Food, Slice, Snack
Cuisine:
American, Australian
Ingredients
170

gm

Cadbury Dream White Chocolate

1

can

Sweetened Condensed Milk

160

gm

brown sugar

120

gm

butter

75

gm

golden syrup

50

gm

glucose

1/2

tsp

salt
Instructions
Line a slice tray with baking paper.

Place chocolate squares in TM bowl. 5 sec/Speed 9. Remove chocolate and reserve for later.


Add condensed milk, chopped butter, brown sugar, salt, golden syrup and glucose syrup to TM bowl. Cook 8 min/100C/Speed 3 (MC OUT).

Scrape down the bowl being careful not to allow any condensation into the bowl.


Cook 20mins/Varoma/Speed 3 (MC OUT).

Add reserved chocolate to TM bowl. Combine 10 sec/Speed 3-4.

Pour the fudge into the prepared tin. Refrigerate until set.
Recipe Notes
The fudge will be set enough to cut within 30 minutes.
With the Thermomix salted caramel fudge is a cinch! All you have to do is add the ingredients and walk away. It could not be easier. If you're looking for a quick treat to make for a school fete or a bring a plate morning tea this is the recipe for you.
The best thing is, this is the best fudge recipe ever! The fudge isn't grainy, it's smooth and creamy in the mouth and sets firm really quickly.
Since I first made this fudge I've made so many different variations. The Milko Vanilla Bean Fudge is another favourite, pictured below.
For Christmas I make a reindeer salted caramel fudge to give to the bus driver and neighbours. My son's girlfriend loves oreo's so I experimented until I came up with an oreo fudge for her as a special treat.
Would like more great Thermomix recipes, please follow the ThermoKitchen FB Page. I share loads of great recipes on the page. Our community group page also shares recipes, meal plans and tips from other fabulous Thermomix bloggers.